Intimidation
In the March Hospital District meeting, Superintendent Elaine Komusi said about us, "Two of them sit here at every meeting with their cameras, recording devices, taking notes and trying to intimidate us."
That's not why we record the meetings. We record them mostly so no one can misrepresent what happens with impunity, and so we can report accurately.
Here's another reason. Turn the volume up to hear the dialog.
Now THAT'S intimidation.
That is Adam Rozyskie. His wife Fran Rozyskie is a nurse at our clinic. Shannon says: I was sitting at the desk across from the doorway. Adam came into the room and rushed over to me. He bent his head down and got his face very close to mine and said, "How's the lawyer wannabe?" I moved the iPad up to show how close he was. He may have known then that I was recording him. As you can see, when challenged about his harassment and intimidation of me, he lies about what he said to me.
Adam ran for appointment to the Fire District at the same time I did. He was not selected. He also talked about running for Fire District in the last election but chose not to.
All Point Bulletin's favorite commissioner announces resignation
Number of APB articles quoting Commissioner Nault: 9
Number of articles quoting Chairman Williams: 2
Number of articles quoting Commissioner Harper: 1
Dueling Articles
The two articles below were both published in the April 2018 All Point Bulletin.
Amount of space in the first article devoted to disparaging us: 44%;
Amount of space devoted to Unity Care's intent to leave if there's further "dissent": 0%.
Say, whatever happened to that community survey they did?
The interim results from early February are available on the district web site. Superintendent Elaine Komusi said she will not update the results with the final numbers. So here are the interim results.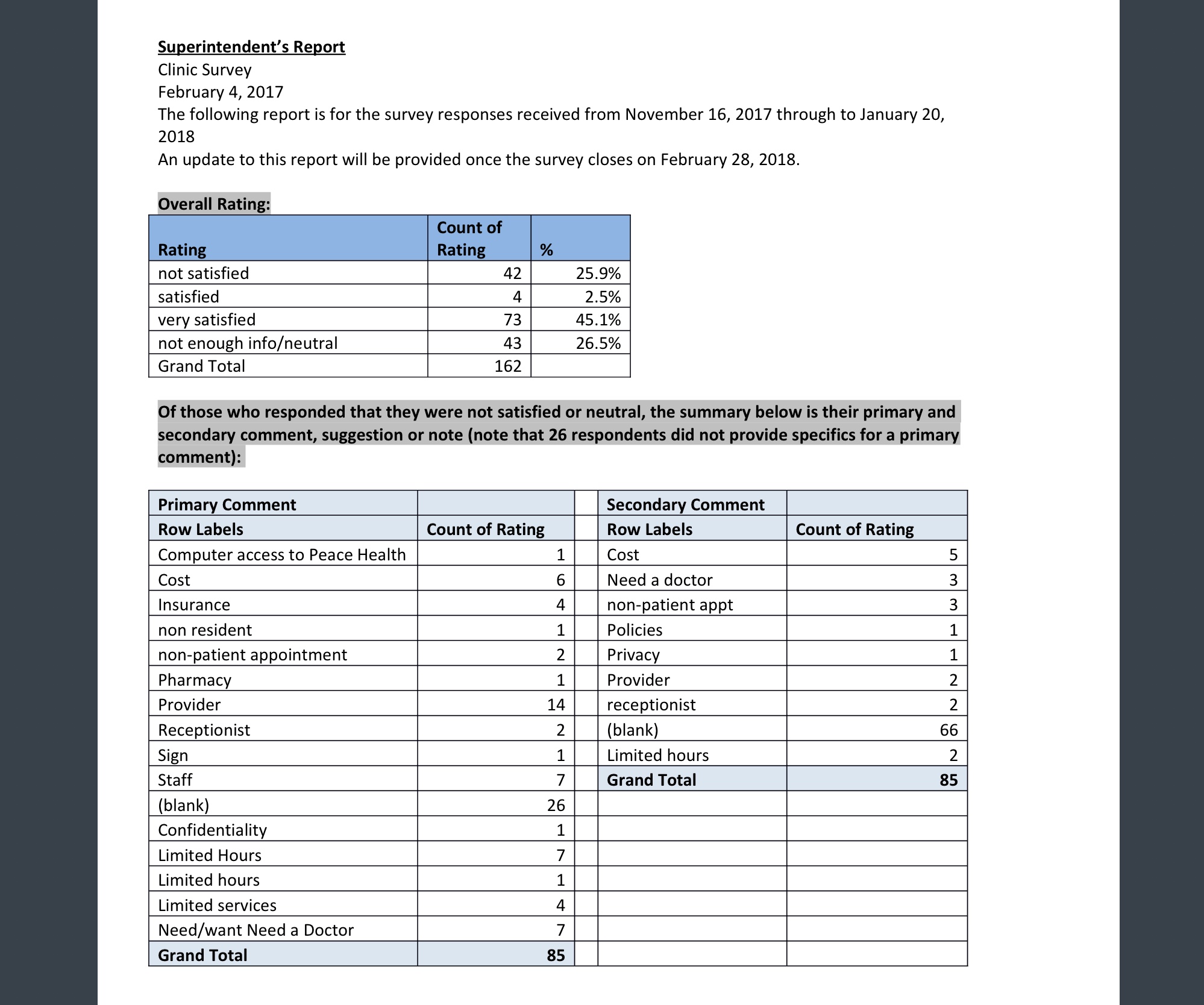 Chairman Williams proves our points
At the April meeting, Vic asked about Unity Care denying the Fire Department's request to allow Bellingham doctors to use the clinic during off hours to see their local patients. Elaine Komusi confirmed that Unity Care had not supported the request and the commissioners were not aware of it. Vic said he thought that should be a district decision rather than a Unity Care decision and she agreed, but noted correctly that it would require some planning and coordination. Vic then asked if the commissioners would support such an arrangement going forward. Chairman Williams said, "I think we should check with Shanon (Hardie, Unity Care COO)." One couldn't ask for a better demonstration of our point that the commissioners have ceded their authority to run the district to Unity Care under the guise of "partnership" (Small Point Bulletin 35).
Look who's being Fair and Balanced (finally)!
In the March edition of the APB, the article "Mandatory trash collection picks up steam" was fair and factual.
The article "Superintendent resigns from district" was originally published on the APB web site on March 8, and it quoted Elaine Komusi's assertion that including a nurse practitioner in the CARES program would exceed the level of services offered in other regions. We fact-checked that article in Small Point Bulletin 34 and pointed out that the law allows for such providers. The article "Fire district to introduce new home care program" published in the April APB confirms our points as shown above.
An article titled, "Expect a big increase in property taxes" published in the March APB claimed that the Blaine school levy's impact on overall taxes would be 50 cents per $1000 valuation. We fact-checked that article in Small Point Bulletin 31, including an analysis of the inflammatory language used in the article. The April issue of the APB contains an article titled "School district wants voters to know who's responsible for biggest tax increase" that reflects our factual corrections to the March article and is written in a factual and objective manner.
It's almost as if Pat Grubb is finally being held accountable. You're welcome.
Emails to Chairman Williams about the Hospital District budget
Following the April Hospital District meeting, in which Elaine Komusi and the commissioners did not answer questions about the budget and how associated decisions were made, we sent the following two emails to Chairman Williams.
April 5
Hi Dick,
Out of respect for Elaine's loss, I am sending this outside of your commission email. I've tried handling things unofficially like this with you guys in the past and Elaine has always made sure it's come back to bite me - hence the current state of affairs, and I hope you will not do that.
Obviously I have a number of questions about your budget that no one on your board wants to answer in a public meeting. There are a few different ways to proceed. Since you signed off on the budget in December, I assume you understand it completely so we can sit down together and you can answer my questions. Or, I could make a public records request either while Elaine is still there and she can fulfill it or wait for you to officially hire Barbara Wayland as the new superintendent. I'll leave it to you to decide.
If I don't hear back from you by noon on Saturday the 7th, I'll assume you want me to make an official records request and Elaine will complete it within two weeks.
Thanks,
Shannon
April 8
An open letter to Point Roberts Hospital District Chairperson, Dick Williams:
It's hugely disappointing that you have not responded to my email. We have known you for years and I thought you were better than that. You know exactly what Pat Grubb is doing and you know who is helping him. And now, you are choosing to lower yourself to their standards and playing their games.
I did not like people calling me at home (or when someone came to our home unannounced!) when I was a commissioner so I'll extend that same courtesy to you. But, I always promptly responded to emails sent to both my personal and department account. It never occurred to me that I could ignore a constituent.
You at the Hospital District have a very perfunctory review of your budget in November and pass it in December. How can't you review your budget every month? How else do you know where you stand? Why don't you want the public knowing how things are going financially? You NEVER talk about Unity Care's budget or spending in public. Why? The only reason I can come up with for this silence is that you are hiding something, otherwise, you would go out of your way to make sure everyone understood your finances.
Here's what you said at your February 7, 2018, meeting: "I'm beginning to be concerned about can we keep it open. Because we're going to be losing a lot of money. We're currently losing money on this year because we didn't budget in enough to cover Unity's request... We have always carried on the books enough money to cover at least six months. But that's money that was left over in part from the federal grant." I've been concerned about your finances since I attended your August 2016 meeting. Elaine Komusi's non-responses to my questions at your April 2018 meeting and now your lack of response are alarming.
Everyone should know, with the rate of Unity Care spending, the Hospital District is going to run out of money. If that's not true, prove it in an open meeting where questions can be asked.
Thanks,
Shannon
Note: We have not yet made this public records request.
Missing in Action
In a letter published in the April APB, Mark Robbins and Arthur Reber wrote, "We urge members of the public to attend commissioner meetings of these two (Fire and Hospital) districts in order to provide valuable feedback - whether positive or critical - in a civil, constructive manner...." Unfortunately, neither one attended the April Hospital District meeting.
And Adam Rozyskie must have missed the "civil" part.
Our Hospital District meeting videos are available at the Small Point Bulletin YouTube channel.
New comic every Monday