Better Know Your Local Districts, Part 2
| (All figures are from the various districts' 2018 budgets.) | Fire District | Hospital District | Water District | Parks District |
| --- | --- | --- | --- | --- |
| Tax/fees revenue | $596,799 | $269,943* | $1,400,000 | $197,801 |
| Scrutinizes expenses at monthly meetings | yes | no | yes | yes |
| Covers budget status at monthly meetings | yes | no | yes | yes |
| Requires attendees to sign in before addressing the board | no | yes | no | no |
| Limits public comments to five minutes per person | no | yes | no | no |
| Recording Secretary salary per month/meeting | $175.00 | $554.67 | $18.75 | $130.00 |
| Records meetings and puts on web for public | yes | no | no | no |
The Hospital District was established in 2006 because we believed there were not enough people in Point Roberts to make a clinic financially viable otherwise. The tax base was intended to provide a stable bridge between the gap of patient related revenues (insurance reimbursements, direct patient payments, etc.) and clinic operational costs.
According to their official 2016 budget, the District's revenues were $258,082. Of that, they gave $156,000 to Unity Care for services rendered. That left the District with $102,000 to spend on their own needs including payroll, rent, insurance, etc.
Unity Care (formerly known as Interfaith) is a company in Bellingham that provides the medical services at our clinic, in addition to their own clinics on the mainland. The people who work at the clinic here are Unity Care employees. Unity Care keeps all patient-related revenues from our clinic. According to the 2016 budget Unity submitted to the District in January 2017, it cost them $432,733 to run our clinic.
Let's put that in perspective. In 2016, it took $534,733 for both entities to run our clinic for about 20 hours a week, spread out over three days ($432,733 for the clinic and $102,000 for the district). By way of comparison, the Fire District runs 24/7 and their 2016 budget was $568,766 (less $19,472.71 automatically set aside in reserve funds).
So, to drive that point home, in 2016:
The clinic cost $3,427 per day they were open, or $10,281 for about 20 hours each week.
Fire District cost $1,562 every day for 24 hour coverage, or $10,937 for 168 hours per week.
Why are we using 2016 financial documents? Because none of this information is available online and Shannon made her records request in March 2017.
The Hospital District Budget
Now, let's take a quick, but painful, look at the Hospital District's 2016, 2017, and 2018 official budget. Superintendent Elaine Komusi drafted it in November and the three commissioners approved it in December 2017. That means they understood it and agreed with it. Even so, no one could answer simple questions about it at their April meeting, and Hospital District Chairman Dick Williams never responded to Shannon's email requests to explain it to her.
As you can see, it's confusing: columns are arranged in reverse, negative and positive "variances" have the wrong sign, some numbers don't add up, some are in the wrong places, and some seem unrealistically low. The circled green letters refer to notes below the budget.
Without a narrative to explain it, this budget is basically useless to help anyone understand their overall financial status in 2016, 2017, or 2018.
Note A: What happened to their 501(c)3 non-profit status? To generate goodwill for the clinic and support it financially, friends of the Hospital District used to make tax free donations and there was a golf tournament.
Note B: What is up with this $13,000? In their November 2017 edition of this budget and at their April 2018 meeting, Elaine Komusi said this was for an "extra invoice that was missed from previous year". This represents about a month's worth of payments to Unity Care. How could this have been missed?
Notes C, D, and E: What is "Contingency Unity", what is it used for, and where does it go if they don't use it? According to this budget, they did not use it in 2016 or 2017, but they have another $10,000 budgeted for 2018. This money is not going into reserves.
Note F: The Hospital District has a telephone? For what?
Note G: Again, what are they doing with cleaning and medical supplies? They never seem to have expenses for them but they keep budgeting for them. Why?
But our real concerns are not with the structure and errors, but rather with the numbers and trends. What we present here is based on the documents we've received through a public records request from the district in 2017, and records requests to the county. No one from the district will answer our questions about it, so this is our reconstruction of the district's budget situation from the documents we have.
Unity Care
Indeed, after the district's subsidies in 2015 and 2016, the clinic lost $624.00 in 2015 and $24,403.34 in 2016. The district cannot backfill those losses much more without taking the funds from reserves, because the district is at the maximum limit of its taxing authority. Below is the Unity Care clinic financial statement for 2016 along with supporting emails between Elaine Komusi and Des Skubi, Unity Care Executive Director. In the financial statement, compare the last two columns to see the difference between what was planned and what actually happened.
As Des Skubi states, Medicaid patients are extremely important to the financial viability of the clinic. On several occasions, Shanon Hardie and the commissioners have acknowledged they would have a larger deficit if they did not have as many Medicaid patients. This demonstrates how fragile the clinic finances are at the current level of support.
Reserves
The chart below shows the reserve account contributions from the start of the district through 2017.
At the end of 2017, based on records from the county, the reserve account balance was $158,640.97, of which $12,431.11 is from interest. This may seem like a lot of money, but remember that it is now taking more than half a million dollars a year to run the district and clinic together.
According to a document Vic saved from his time as a Hospital District Commissioner in March of 2005 when the district was starting out, the amount remaining from the original grant was about $60,000, and about $80,000 remained from pre-district clinic billings, for an estimated total of $140,000. If accurate, the district has only added about $20,000 to reserves since 2005. Remember that the clinic opened in 2003 supported by a federal grant and patient revenues, and the taxing district was established in 2005. The left over grant money was intended to tie the clinic over to taxpayer support, but much of it was put incrementally into reserves when the district and clinic were able to operate on the tax revenues. The bulk of deposits were made before 2012. Virginia Lester left at the end of that year.
The current yearly budgets do not routinely set aside funds for reserves. The money added in 2016 was added in March, apparently before the financial challenges of that year became clear, and may have been added based on the substantial pharmacy revenues from 2015. Pharmacy revenue planned in the 2016 budget shown above was about $14,000 higher than actuals, suggesting that the 2015 pharmacy revenues may have led to over-optimistic expectations for 2016.
Patient Count
Shanon Hardie and the commissioners have expressed repeated concern about declining usage. The fewer patients, the less patient revenue is received by Unity Care, requiring more subsidy from the District in order to balance the books. In the September 2017 district meeting, Shanon Hardie made it clear that the district has the primary responsibility to solve this problem. The chart below shows the number of unique patients by quarter from 2013 Q1 to 2017 Q2:
Here's a patient satisfaction survey from Unity Care at the end of 2016. If the patients who were asked to fill out this questionnaire were not selected randomly, these results (and others like them reported at quarterly meetings) may have given the commissioners an overly optimistic sense of actual patient sentiment and possibly hid problems or issues that should have been addressed.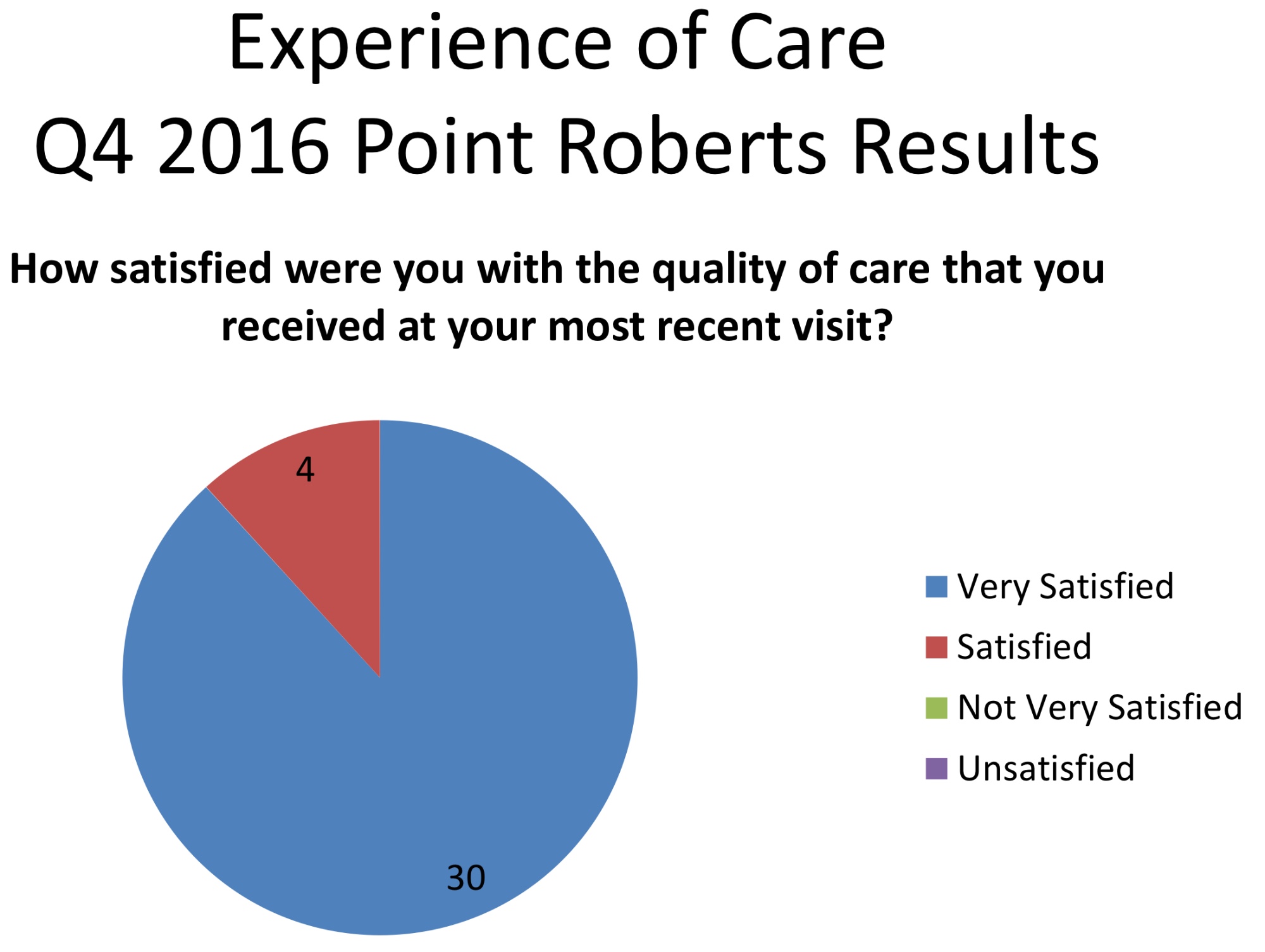 In contrast, here are the interim satisfaction results of the broader community survey. Overall satisfaction is less than 50%, although the vast majority of those who were satisfied say they were "very satisfied".
Summary
The district is between the rock of rising costs and the hard place of a fixed tax base. Declining patient use threatens patient revenues, and the district has limited margin and limited reserves to make up that shortfall. The clinic is generating operating deficits and contributions to the reserve account are declining.
The purpose of the district and its subsidies to the clinic is to ensure continuity and stability. The commissioners haven't gotten ahead of their financial challenges. They acknowledge them, but they have never discussed a strategy for addressing them in any meeting we've attended over the last year.
What Can They Do?
We have some recommendations:
The major challenge facing the district is financial. Hire a superintendent who knows finance, and is willing to exercise more oversight and control over clinic costs.
Work with Unity Care on a multi-year financial plan with worst-case scenarios.
Plan for a tax levy for the first time in their history.
Collaborate with the Fire Department on their health service initiatives and with the Circle of Care to broaden the patient base and avoid overlapping services, instead of treating the CARES program as a threat to patient numbers.
Increase community outreach. Treat the Fire Department open house as an opportunity to market the clinic to new potential patients.
Ensure that Unity Care has a provider succession plan in case Nurse Practitioner Natalie Davidson leaves.
Apply for federal grants like the Fire District does. Unity Care has strong experience in this area - work with them on grant opportunities.
Provide an easy, direct, and confidential means for clinic patients to register complaints or comments about clinic services so the commissioners and superintendent can address them.
Have a viable plan in case Unity Care leaves. Assess opportunities for other providers or self-management on an ongoing basis. The clinic was started by a group of local volunteers. We now have more people here with relevant financial and medical expertise who would likely be willing to step up and volunteer their time to help their community.
Assess opportunities for additional services, such as doctor use of the clinic during Unity Care off-hours, to expand the patient base and maximize the benefits of the clinic to the community.
Shooting the Messenger
We're very concerned for the Hospital District's future. This is a serious issue. The All Point Bulletin is not serving the community well when it dismisses well founded concerns about the Hospital District's finances and focuses its fire instead on us for pointing them out. Which is funny, coming from that famous champion of open government.
New comic every Monday