Community survey results
"For every one complaint you receive, there are dozens of other customers who most likely experienced the same thing, but didn't speak up. This provides you with the motivation to quickly address the issue so you don't lose more than just the one squeaky wheel." From the Curiosity at Work blog on Survey Monkey, the firm that ran the Hospital District community survey.
Last fall, we suggested the Hospital District run a community survey to find out why so many people were leaving the clinic so they could fix the problems and save the clinic. They resisted until Unity Care endorsed the idea. The survey ran from November 2017 through February 2018. Since then, the district has apparently done nothing with the results, so we asked for the data in a records request.
In the last Small Point Bulletin, we had to strongly defend ourselves against an accusation that we had suggested the survey in order to gather and publish inflammatory responses. We then documented our commitment to not do so. In our email exchange with Unity Care COO Shanon Hardie, she wrote, "I am hearing your message to say that you too, are only interested in identifying common trends and potential opportunities? If that is the case, we will be aligned on that." In what follows, we do not publish any comments, nor do we name specific individuals, just trends.
First, this article was published on the All Point Bulletin web site in January: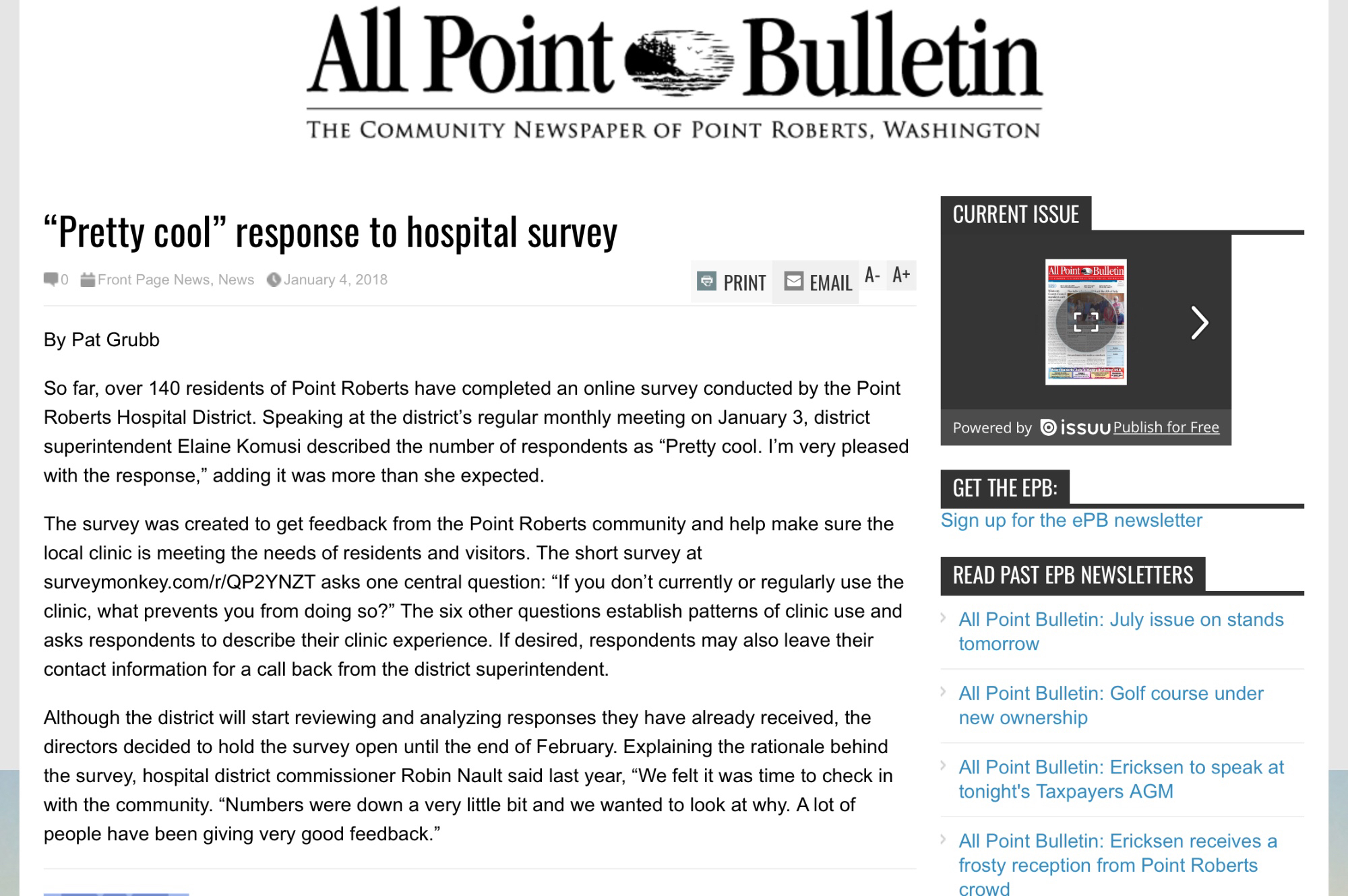 The results show there is a lot of passion on both sides: people who passionately love the clinic and its staff, and people who passionately feel they've been mistreated in one way or another.
While many people expressed high satisfaction with the clinic, we focus here on the complaints because they were the comments that pointed to opportunities to increase utilization. It's easy to cite the number of positive comments in the survey as evidence that all is well, and to dismiss complaints as "one-offs". The district and Unity Care have been celebrating apparently positive data and minimizing negative data for a long time. But the number, subjects, and detail of the survey comments are completely congruent with the nearly 20% drop in patient count over the past three years.
The themes were clear by early December. At the February district meeting, Chairman Dick Williams asked the other two commissioners to review the comments and come to the next meeting with recommendations based on them. Only six new comments were received after January 20 so the district has had six months or so to follow up on them and begin to correct them. It only took us a couple of hours to digest and understand the trends. The fact that nothing was done with the survey results, or to address the long term declining patient counts, suggests to us that Unity has been planning to leave for a long time.
If the district had done this in February or March, and published a letter to the community on PAWS, Nextdoor, or the APB describing the trends and how they intended to address them, we would never have asked for the data.
Clinic Staff
"I've been doing health care for many, many years. The customer service that these guys provide to our patients here is some of the best I've ever seen." - Shanon Hardie at the March district meeting
By far the largest number of complaints had to do with clinic staff, more than twice the second-leading category. We include concerns about both how people were treated and quality of care in this category. About two thirds of the negative comments from unique respondents related to staff. It's hard to overstate how clear this theme is.
Given Elaine's and Shanon's concerns about "harsh comments" that could damage peoples' reputations, we expected a lot of gratuitous personal attacks and venting. Only one person went over the line, and only barely. The complaints weren't damaging because they were harsh. They are damning because they were detailed, numerous, credible, consistent, thoughtful, and heartfelt. They should not have been so casually dismissed.
The most informative value in comments like these is not so much in the raw numbers but in the themes that emerge and how specific those themes are. For example, if someone mentions "a bad experience", that's not informative enough to know how to interpret and address it. But if multiple people telling different stories complain specifically and in detail about how they were treated as individuals, that indicates that multiple people have had a common experience. In this case, these were the common themes: people being made to feel unwelcome at the clinic, being turned away in a time of need, feeling they had been treated unfairly, and loss of confidence in the quality of care.
In order to avoid calling out specific individuals, we have to treat the entire staff as one, but that does not mean that all members of the staff are equally implicated in the survey results.
Hours
This is a real but insurmountable problem. Some people say they would go to the clinic if it was open five days a week or on weekends, but the clinic cannot fill the hours they are already open. Before the survey, this was the only theme the commissioners discussed in meetings. They would recount what they heard around town and discuss changing days or hours but always deferred to staff's personal schedules instead.
Cost
The Point Roberts Hospital District collects about $270,000 in taxes and pays Unity Care about $170,000 each year. As a result, no one should ever have been turned away from the clinic for lack of insurance or payment, but that appears to have happened.
Other people expressed confusion about how to anticipate their costs and whether their insurance would be accepted. Why wasn't cost information included on their website or conveyed in some other method?
The fact that Unity Care is a non-profit organization does not preclude them from watching their bottom line and being willing to jettison an under-performing clinic. It also does not mean they don't make a lot of money. Non-profits can pay some employees very well and usually offer attractive benefit packages. Or, they could invest in a new $15,000,000 facility opening in Ferndale next year to get a foothold in what they believe is a growing community.
Des Skubi became the Executive Director at what was then called Interfaith in early 2009. At the end of 2009, Skubi announced there would be a 26% increase in their contract rate with the Hospital District. The District was so concerned about the increase, they began "exploring alternative" providers. Here's Meg Olson's headline, with the All Point Bulletin's usual tasteful understatement:

Canadians - Why do some folks here love to hate those who pay so much in taxes?
Canadians who own property in Point Roberts pay much of the $270,000 in tax revenues that support the clinic. They are equal stakeholders in the district and the clinic, and they should never be discouraged from using services they've helped pay for. Yet some Canadians in the survey reported that they didn't feel welcomed at the clinic and even that they had been turned away and told to go to Canada. This feeling is corroborated by email exchanges between Unity Care and the Hospital District in 2017.
Why not just fix it?
The big mystery for us is why the district and Unity Care would let patient counts slide so dramatically for so long while doing nothing to understand why, let alone correct it. The reasons for the decline are clear. Why the district chose to let it fail rather than confront the issues is not.
If they had taken the necessary steps, the clinic could have recovered. But instead, they hid the problems. In October of 2015, then Superintendent Elaine Komusi published an article in the All Point Bulletin describing all the great things happening at the clinic, including rising patient visits. In that January 2018 screenshot above from the All Point Bulletin web site, when the clinic had lost over eighty patients, former Commissioner Robin Nault is quoted as saying about the survey, "Numbers were down a very little bit and we wanted to look at why." Here's what the patient trends looked like when these articles were published: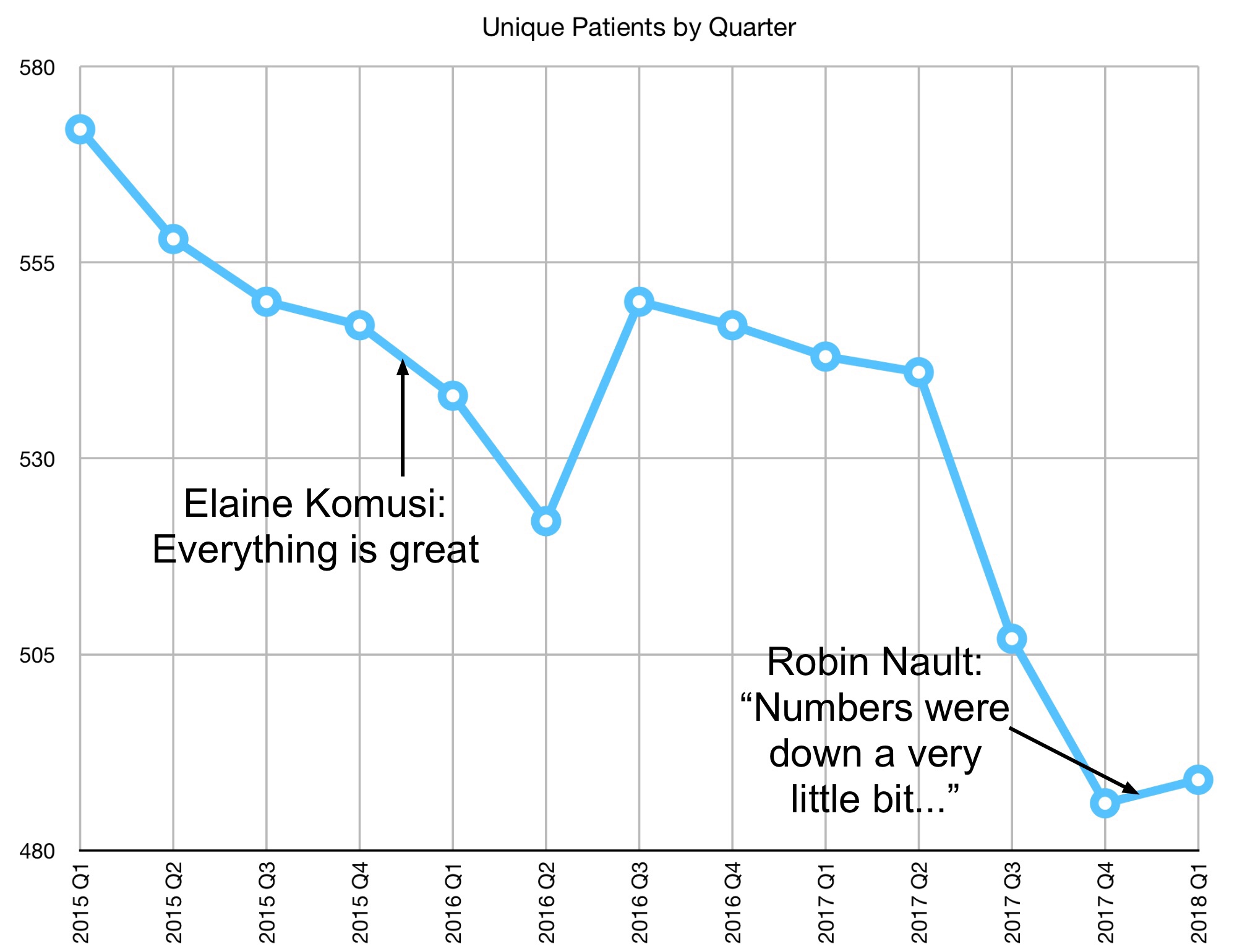 To sum up:
The trends are pronounced and clear. The themes are not new. Complaints have been made in the past but they were either ignored or the staff chose not to implement them. Some would be difficult to fix, but fixing them would have been easier than finding a new provider.
At their June 14 meeting, the Hospital District and Shanon Hardie pretended all was well and spoke of the organizations' futures together. It's disappointing that they chose to not face the public and instead once again used the All Point Bulletin to air their grievances. They held no special meeting to inform people but instead put a notice out on PAWS Interface.
To those of you who submitted these complaints, you are not alone. The clinic has to welcome everyone equally, and it has to provide competent care. No one should feel compelled to promise never to come back, as too many people have. When a significant number of people who pay taxes to support the clinic refuse to go there because of how they've been treated or because they've lost confidence in the quality of care, the clinic is failing the community.
And to those of you who love the clinic, we hope you can understand that many people have had a very different experience there than you have.
New comic every Monday