The Town of Point Roberts, Part 3
This is our third installment looking at the Whatcom County budget and the general fund in particular. In Part 1, we looked at tax revenue and focused on the county General Fund, which is the largest category of discretionary funds. In Part 2, we looked at expenditures and found that Law and Justice was the largest consumer of General Fund expenditures. In this installment we look at the budget for the Law and Justice category, which includes the County Sheriff and our two deputies.
In 2019, we will pay $591,863 into the county's general fund. According to the County Executive's budget, 57%, or $338,775, of that goes to the Law and Justice categories, which includes the functions shown below: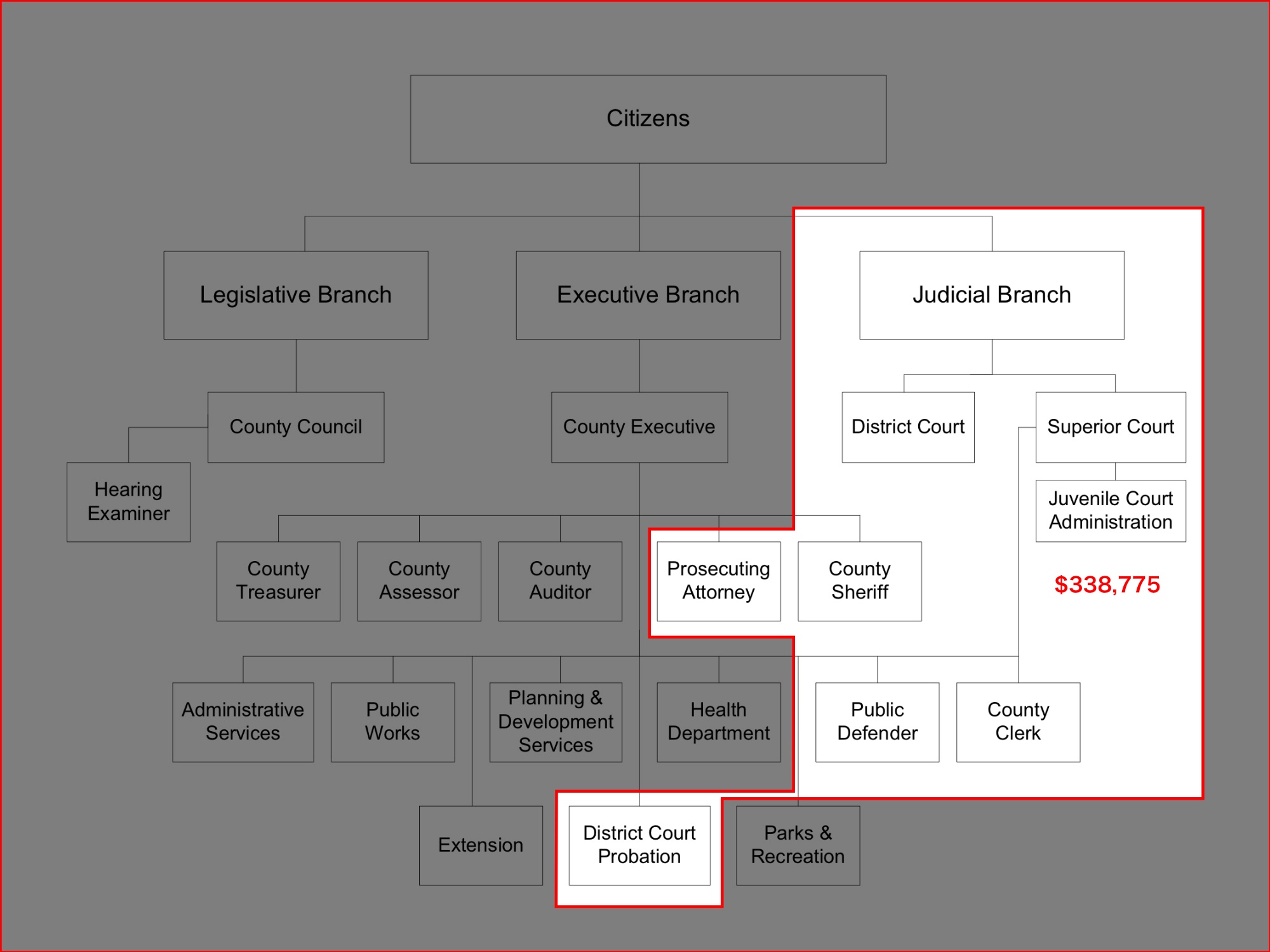 The County Executive's 2019 - 2020 Budget document explains what these functions do and how they're funded.
Superior Court
From that same document:
"Whatcom County's four Superior Court judges and three full time court commissioners and three part time court commissioners hear all cases involving: adult felonies, all juvenile offenses, divorce, child custody, support matters, probate, guardianships, adoptions, property claims in excess of $35,000, paternity actions, mental incompetency, and abused or neglected children. Superior Court Administration oversees judicial operations, Drug Court, Family Treatment Court, other specialty court programs, and family law facilitation."
Starting with the Superior Court, here are some of the services it provides that could be relevant to Point Roberts:
Adult Drug Court: Intensive case management and monitoring of long-term drug users, involving treatment and reward and punishment.
Dispute Resolution Center: Administers family law mediation program; scheduling and recruitment/training.
Family Treatment Court: Case management for drug using parents in dependency cases.
Family Law Courthouse Facilitator: Provides assistance with domestic relations matters for those without attorneys.
Mandatory Arbitration: Provides arbitration for certain civil cases with limited amounts in dispute. Maintains strike-list of 47 arbitrators.
About 80% of their funding comes from the General Fund: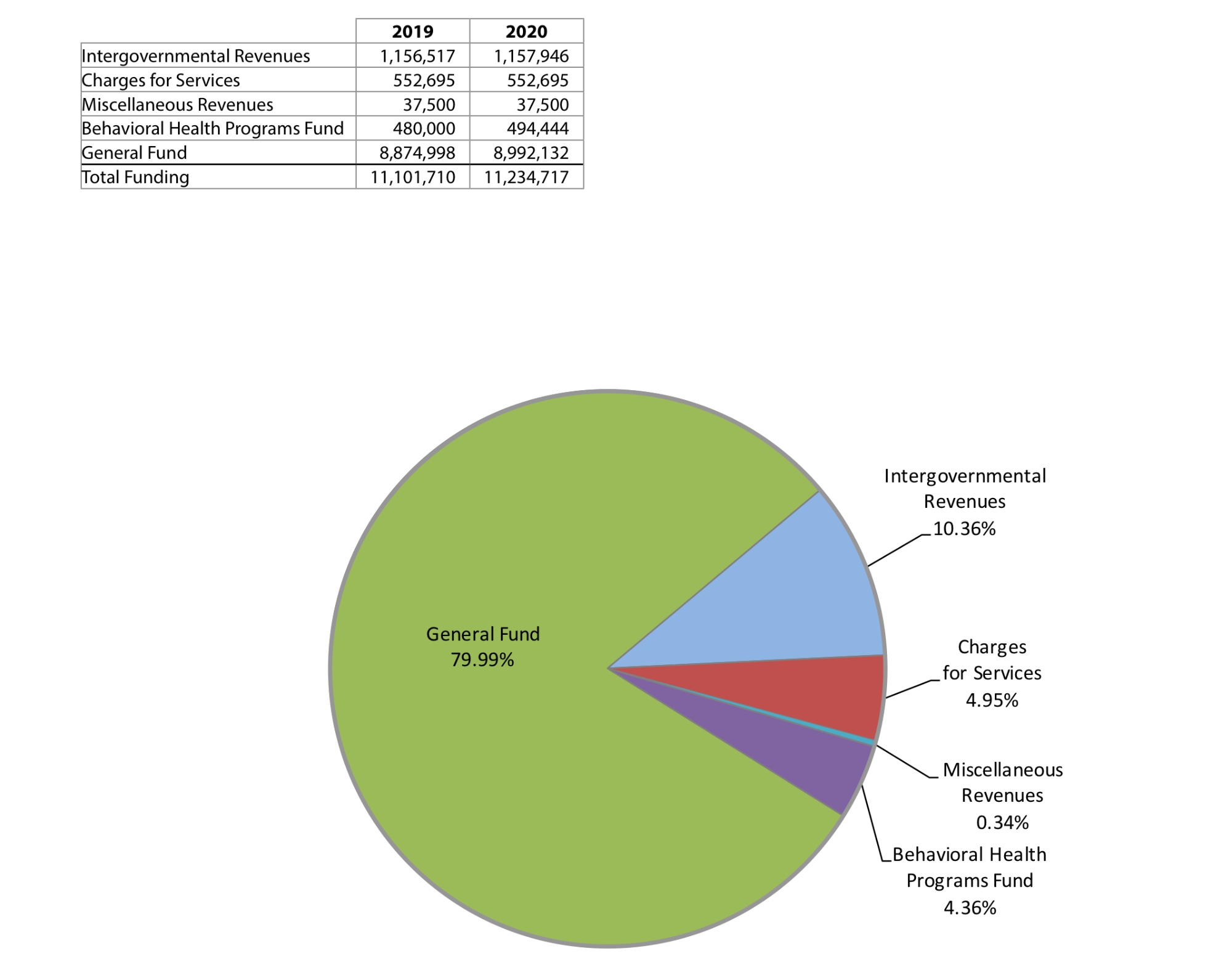 And here's their organizational chart. We show this in order to demonstrate how many people it takes to provide this range of services:
District Court
"With two elected judges and one appointed commissioner, District Court processes Sheriff, State Patrol, Department of Fisheries, State Park and WWU traffic citations. It also handles criminal misdemeanor cases, small claims, civil claims, name changes, and protection orders."
Here's a list of services provided by the District Court:
Criminal and Gross Misdemeanor (DUI, Criminal Traffic): Processing criminal misdemeanor and gross misdemeanor cases filed in District Court.
District Court Civil Cases: Processing civil and small claims cases filed in District Court.
District Court Infractions: Processing infraction citations filed in District Court.
District Court Probation Behavior Health Unit: Supervision of individuals placed on court ordered probation who meet guidelines for intensive supervision with identified mental health concerns.
Deferred Prosecution – District Court Defendants: Supervision of individuals placed on court ordered deferred prosecution.
Pre Trial Probation – District Court Defendants: Supervision of individuals placed on court ordered pre-trial release.
Probation Supervision – District Court Defendants: Supervision of individuals placed on court ordered probation.
About two thirds of their funding comes from the General Fund:
And here's their organizational chart:
Prosecuting Attorney
"An elected official, the Prosecuting Attorney prosecutes criminal acts within the County, provides legal advice and legal services to county officials and staff, and represents and defends the County. The Prosecuting Attorney's Office also provides assistance to victims of crime, sexual abuse, and domestic violence and provides oversight of the Whatcom County Law Library."
Here's a list of services provided by the Prosecutor's office:
Administration: Managerial and administrative functions.
Appellate Division: Attorneys represent the interest of the State regarding proceedings required by the State Court of Appeals, State Supreme Court and in some instances Superior Court relating to appeals from a court of limited jurisdiction (District Court).
Civil Practice: Provide legal counsel and representation to all county departments, the Executive's Office and the County Council.
Criminal Prosecution/Felony: Represents the State of Washington in the prosecution of adults and remanded juveniles who commit felony offenses. Assists authorities in determining probable cause, obtaining search warrants, interpretation, and application of the law, and with case investigation issues.
Criminal Prosecution/Juvenile: Represent the interests of the State of Washington in the adjudication of juvenile offenders who commit felony or misdemeanor criminal acts, excluding criminal traffic misdemeanors committed by offenders over the age of sixteen.
Criminal Prosecution/Misdemeanor and Criminal Traffic: Represent the State of Washington in the prosecution of misdemeanor and criminal traffic offenses committed by adults and in criminal traffic matters committed by juveniles who are over the age of sixteen.
Paternity/Support Enforcement Unit: Represent the interest of the child and State in legal actions brought under RCW 26, to establish paternity and/ or enforce the payment of child support in an effort to reduce public assistance expenditures.
Victim/Witness Unit: Provide information, assistance, and advocacy to victims or witnesses in order to facilitate prosecution efforts.
Law Library: Provides effective access to legal research materials to support the legal research needs of the courts, the bar, county administration, and the public in Whatcom County.
They get just over half their funding from the General Fund: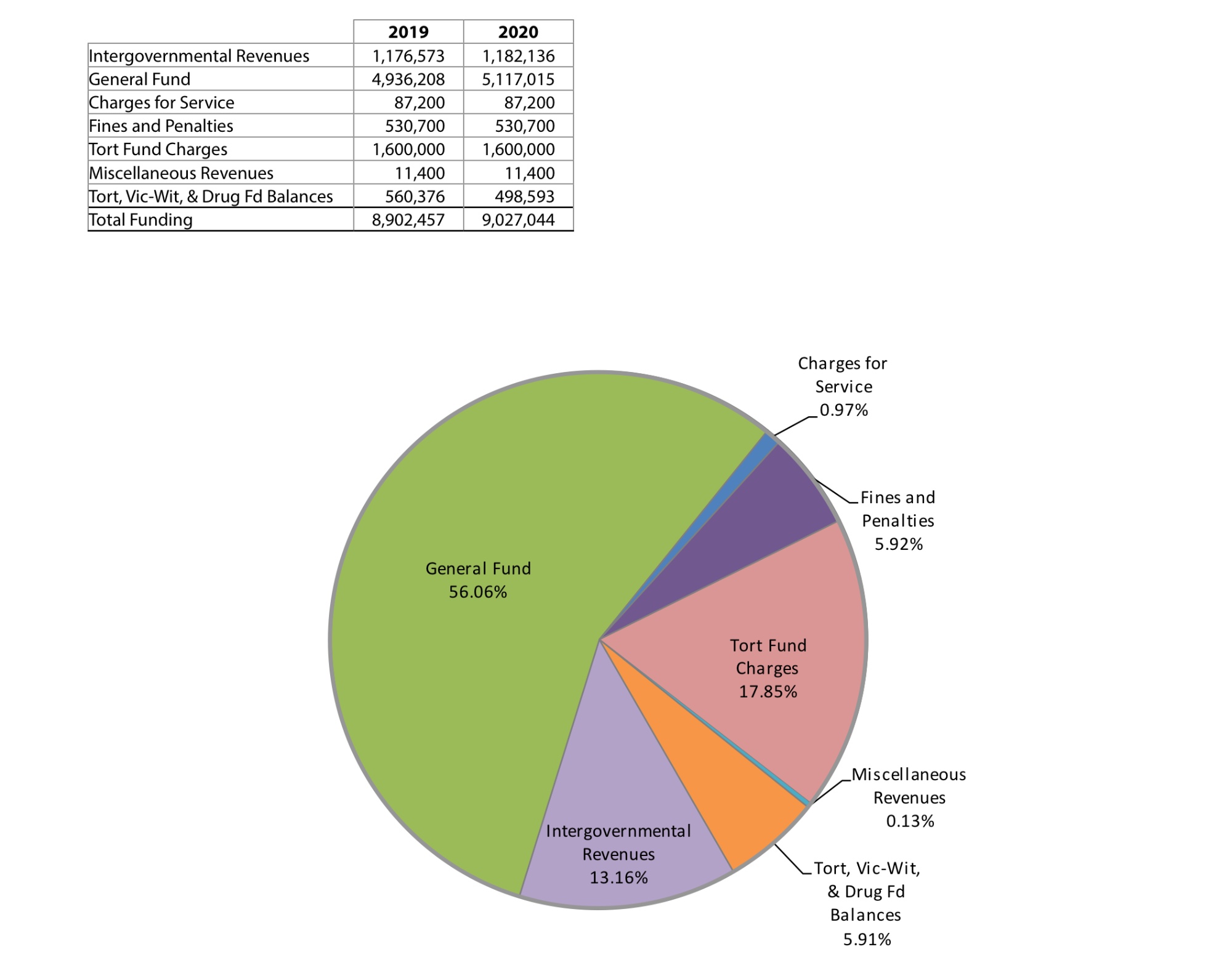 And here's their organizational chart: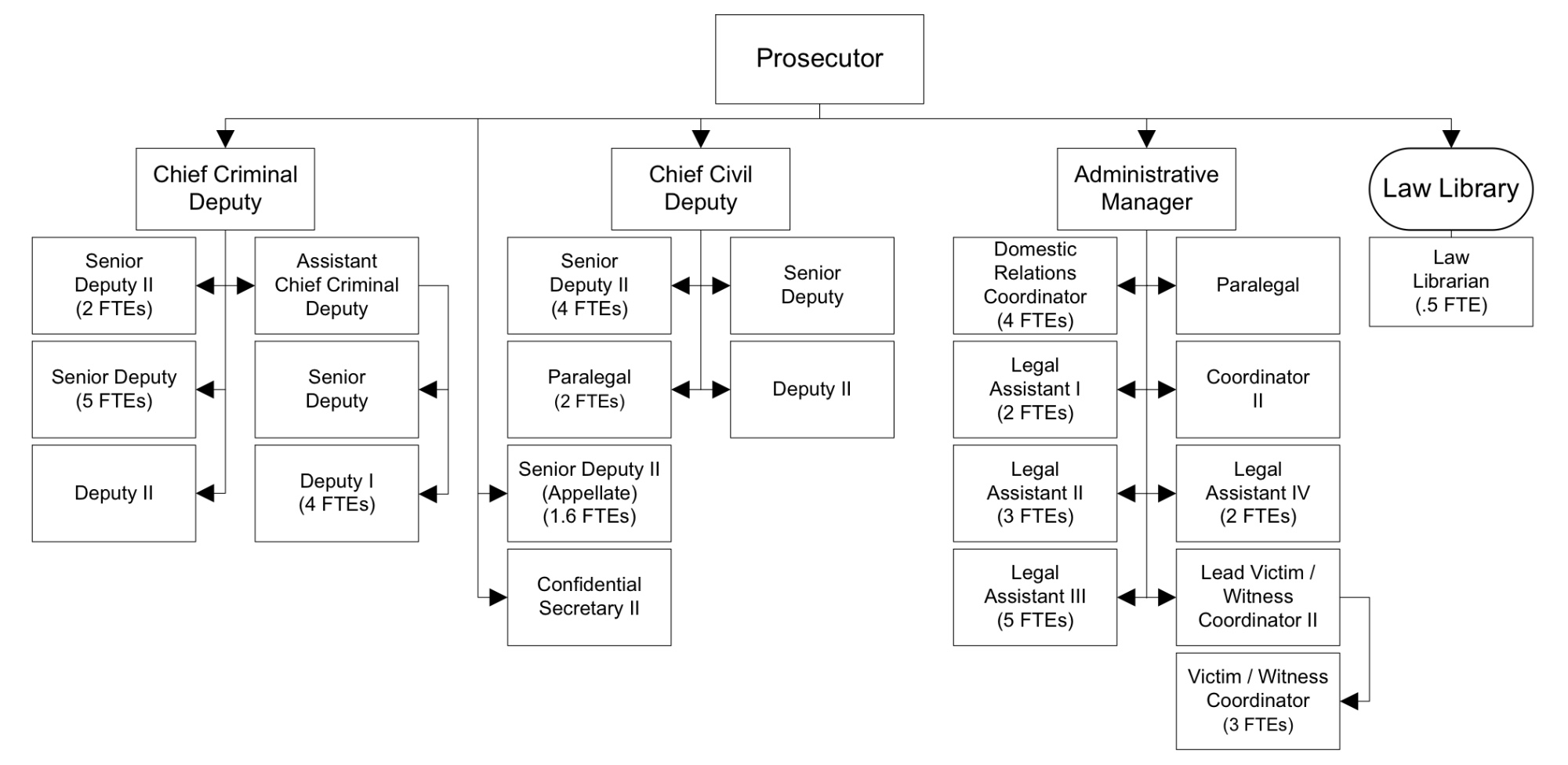 Public Defender
"The Public Defender's Office provides constitutionally mandated indigent legal defense for felony, misdemeanor, and probation violation charges against adults and juveniles in Whatcom County Superior and District Courts. In addition, the Office also provides representation in involuntary mental and alcohol commitment cases."
Over 90% of their funding comes from the General Fund: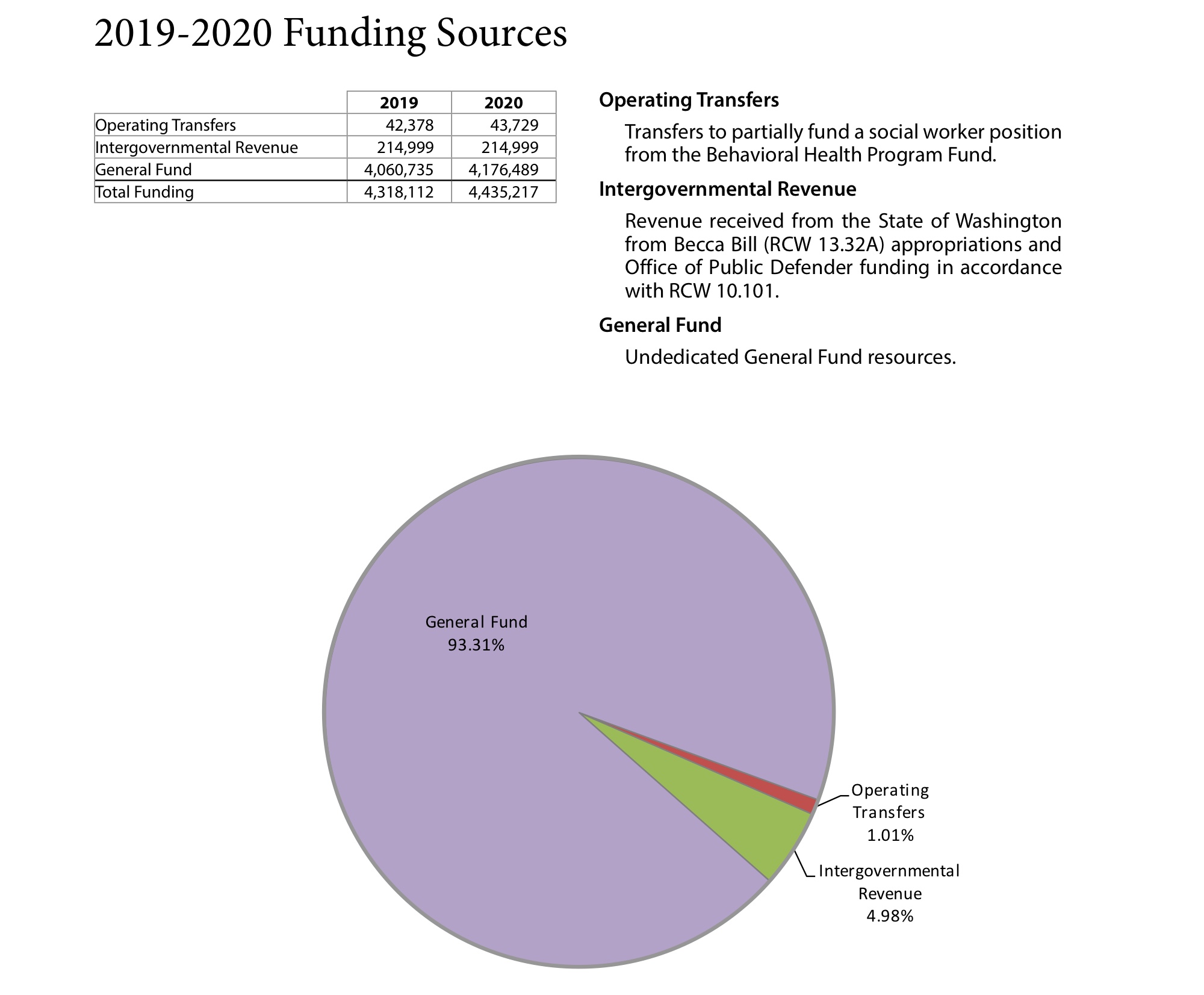 And here's their organizational chart: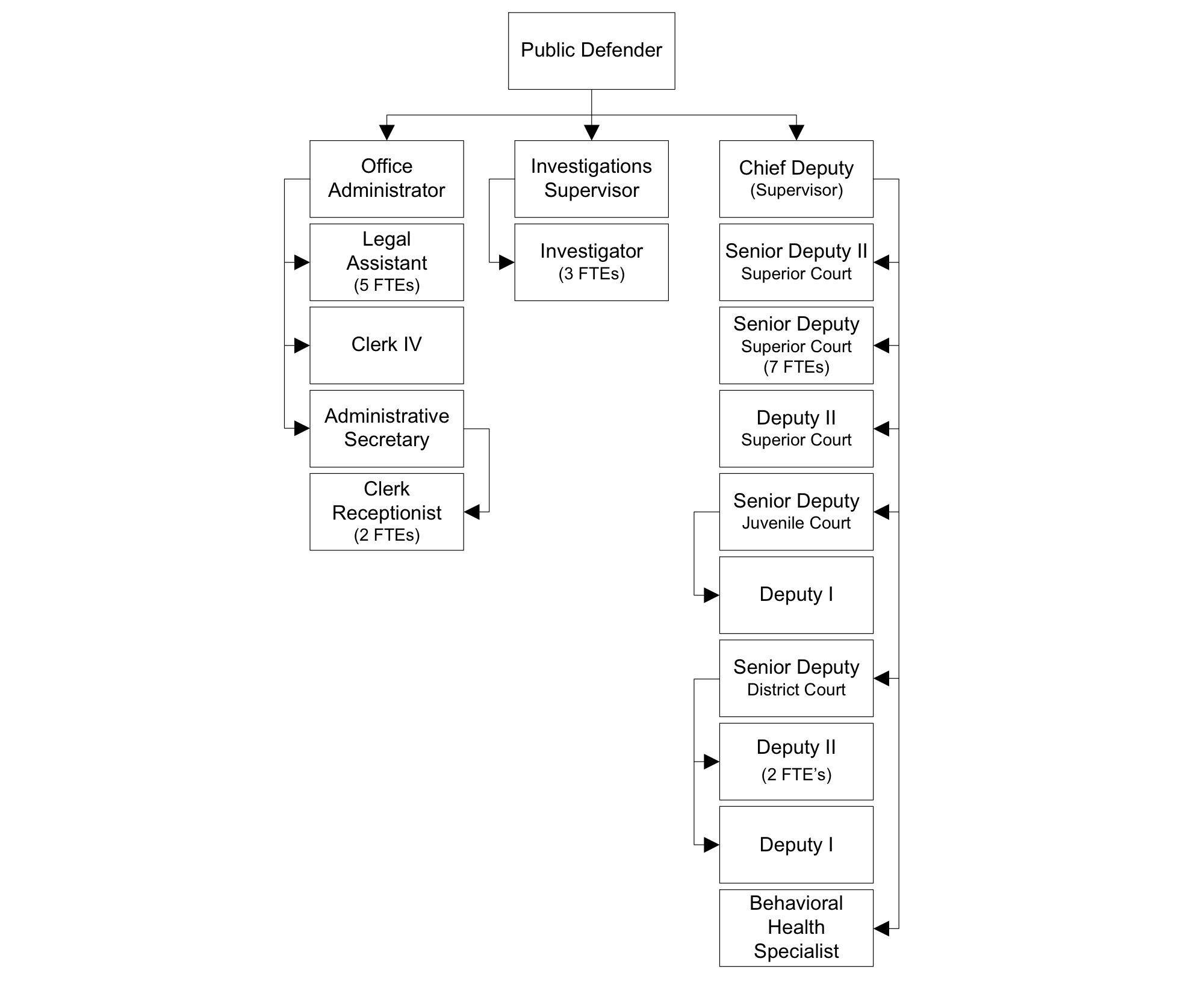 Sheriff
It was the Sheriff's late response to the break-in at Auntie Pam's last year that prompted discussion of having our own police department instead of continuing to rely on the county Sheriff.
"An elected official, the County Sheriff is responsible for law enforcement in the unincorporated areas of Whatcom County. The sheriff also has several countywide responsibilities (serving both the cities and unincorporated areas), including operating the county jail and coordinating professional and volunteer search and rescue efforts.
"The Sheriff's Emergency Management Division provides community education in disaster mitigation and preparedness, and plans for and coordinates disaster response and recovery efforts.
"The Whatcom County Sheriff's Office (WCSO) Corrections Bureau operates the Whatcom County Jail and the Alternative Corrections program. The jail is a medium security facility responsible for the incarceration of approximately 210 prisoners daily. In addition, Whatcom County operates a minimum-security facility that can house up to an additional 150 prisoners daily. The Corrections Bureau also oversees part of a statewide transport chain that links the various jails and detention facilities. Jail transport officers make daily trips to Skagit County and the City of Marysville Jails. The Corrections Bureau is also responsible for facilitating alternative sentencing programs. Current alternative programs include: electronic home detention, work release, in custody and out of custody work crews."
Here's a list of services the county Sheriff's office provides:
Courthouse Security/Station Deputy: Provides onsite first response to calls for service and reporting of crimes at the station and courthouse.
Crime Analysis: Crime Analysis provides support to the investigations units and patrol.
Investigations Division: Handles the vast majority of major case investigations that require numerous hours of follow-up, contacts, and documentation prior to criminal charging or criminal trials. Provides support and assistance to the prosecution and other criminal justice agencies.
Marine Patrol and Washington State Approved Boating Safety Program: Marine patrol and boating safety program provides enforcement, education, and public information. Also provides the capability for assistance in criminal investigations, search and rescue and homeland security.
Records Division, Identification, and Evidence: The records and identification bureaus performs record keeping, data entry, fingerprinting, criminal files, submissions, permits and licenses, report retention and information management for the Sheriff's Office as mandated by law.
Sheriff – Civil Division: Provides intake, processing, and service of civil process.
Sheriff – Patrol and Incident Response: Provides for public safety response to Whatcom County and law enforcement services to those requesting them via personal contact, telephone, or dispatch from 911 center.
Training – Law Enforcement and Investigations: Initial and ongoing in service and professional training.
Emergency Management Communications: WCSO-DEM provides emergency communications and warning systems for Whatcom County and the Whatcom Unified Emergency Coordination Center.
Incident Support and Response: WCSO-DEM provides on-site incident response and support when disruptive events occur that either overwhelms local response organizations or when conditions require direct action.
Planning: WCSO-DEM provides Risk, Safety, Security, Emergency, and Crisis Management planning, development of procedures, as well as policies and guidelines.
Training: WCSO-DEM provides Risk, Safety, Security, Emergency, and Crisis Management training addressing all phases of emergency management as well as specialized training on specific hazards.
Whatcom Unified Emergency Coordination Center: The Whatcom Unified Emergency Coordination Center is a jointly funded, managed, and operated facility to provide emergency support services throughout all of Whatcom County.
Jail Administrative Functions: This service includes all function associated with the day to day administration of the County Jail and Jail Alternative Work Center.
Electronic Monitoring Services: We provide alcohol detection, monitoring equipment and GPS tracking bracelets to District Court Probation clients.
Food Service: Provides three nutritionally balanced meals per day to offenders of the Whatcom County Jail and Work Center and provides sack lunches for the Inmate Work Crews.
Inmate Commissary: Through their commissary purchases, jail inmates are supplied with a variety of goods such as toiletries, over the counter medications, snacks, packaged drinks, candy, clothing, and stationary.
Inmate Medical: This service provides basic and emergency medical, dental, and psychiatric care to offenders, primarily through the use of contracted health care professionals.
Prisoner Housing: The care and supervision all offenders remanded to full custody by municipal, district and superior court judges and/or placed under arrest by any law enforcement officer within Whatcom County.
They get about two thirds of their funding from the General Fund:
Here's their organizational chart: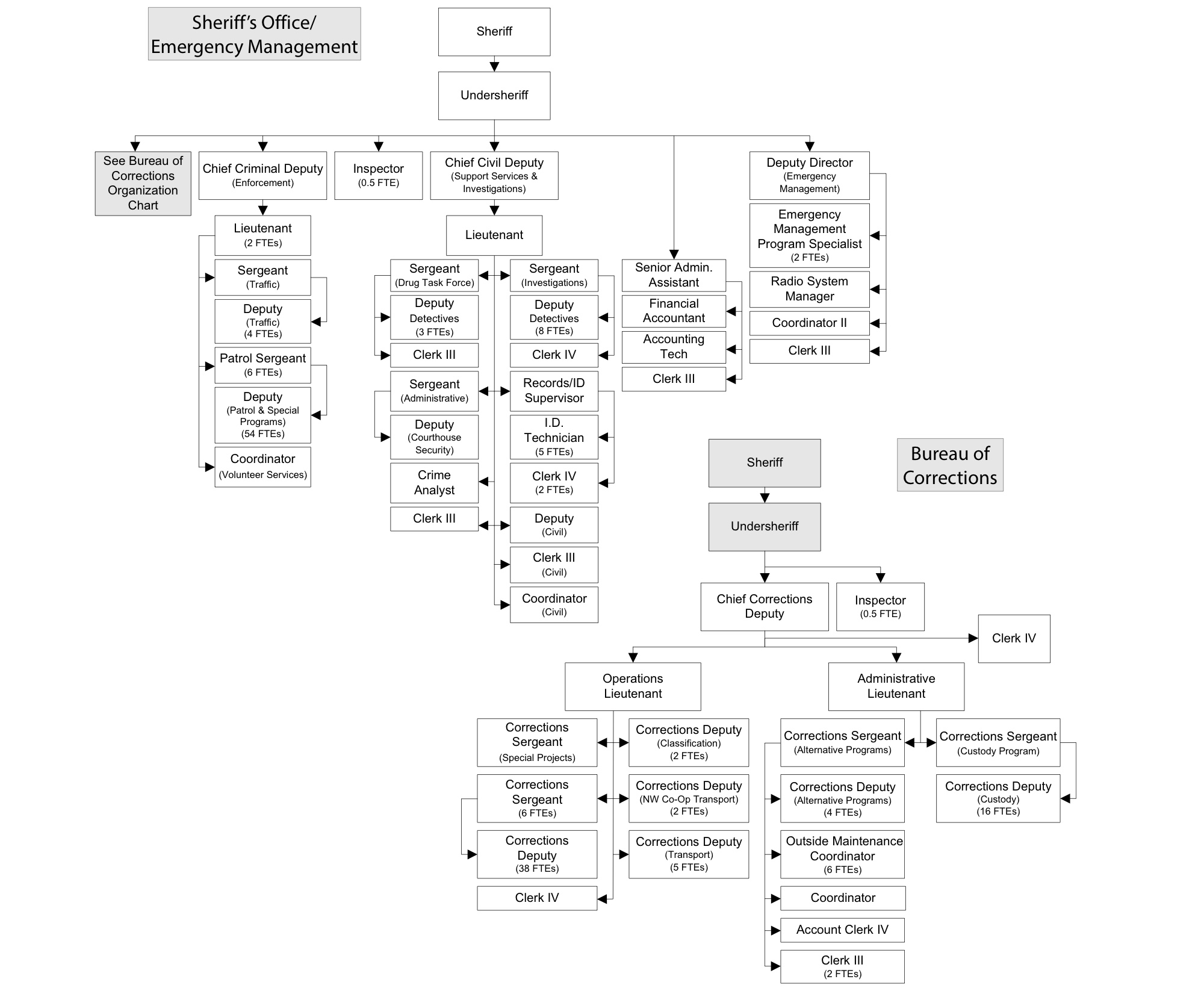 Point Roberts accounts for less than 1% of their total spending:
And here's their actual 2019 budget for Point Roberts:
Key Point 1
We have access to all of these services and resources for the $338,775 that we pay into the General Fund for the Law and Justice category.
Key Point 2
We receive $293,965 in direct support from just the Sheriff's department but it costs more than that to have two deputies here. Their budget for us does not include the "incidental" costs and overhead. Here are some of those items, in no particular order:
Liability insurance
Training
Computers
Office supplies
Guns and related equipment
Backup coverage
Records and evidence safekeeping
Investigations and crime analysis
Administrative support
Account and payroll
Key Point 3:
For the remaining $44,810, we have access to all of the services provided by the other departments: Superior Court, District Court, Prosecutor, and Defense Attorney, along with all of the administrative functions required to support them.
Next
In the final installment of this series, we'll compare what we pay with what we get and consider the question of whether we could support these services ourselves.
Comment from Shannon, who did the research
I talked to a lot of people in many different departments at the county about their services and budgets. Without fail, every person I talked to was open, helpful, and respectful. No one wondered what business of mine it was to ask questions about their spending of tax revenues. No one put up any kind of roadblock, no one was territorial or acted like the department in which they worked was their personal fiefdom, no one was rude, and no one said anything to the effect of, "Give us a list of your questions and we'll answer them sometime in the future if and when we feel like it". In other words, they were professional. Oh ya, no one called the local paperboy to complain and no one resigned.
Jump to part 4 here.
New comic every Monday